Suzuki GSX-R 1000 Owners Manual
Suzuki GSX-R 1000 Owners Manual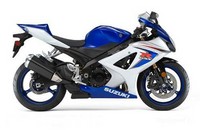 Motorcycling is one of the most exhilarating sports and to ensure your riding enjoyment, you should become thoroughly familiar with the information presented in this owner's manual before riding ...
Other materials:
The sport of motorcycling
Your motorcycle and this owner's manual have been designed by people like you who enjoy motorcycling. People become motorcyclists for many reasons. For starters, street riding is fun and invigorating. But no matter why you became a motorcyclist, or how experienced you are, you will eventu ...
Precautions
Precautions for wheel and tire Proper tire pressure and proper tire loading are important factors. Over loading tire can lead to tire failure and loss of motorcycle control. Under-inflated tires make smooth cornering difficult, and can result in rapid tire wear. ...
Spark plug inspection and cleaning
Inspect spark plug every 6 000 km (4 000 miles, 12 months) Heat range Remove the spark plugs. Refer to "ignition coil and spark plug removal and installation" in section 1h . Check spark plug heat range by observing electrode color. If the electrode of the spark plug is wet appe ...