Suzuki GSX-R 1000 Owners Manual: Engine oil level check
Check the engine oil level as follows:
Place the motorcycle on level ground on the side stand.
Start the engine and allow it to idle for a few minutes.
Stop the engine and wait three minutes.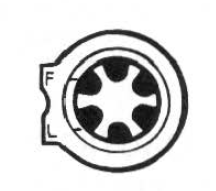 Hold the motorcycle vertically and check the oil level through the oil level inspection window on the right side of the engine.

The engine oil level should be between "L" (Low) and "f" (full) lines.
Caution
The engine oil level must be between the " l'' (low) line and "f" (full) ~i ne, or engine damage may occur.
Check the oil level, through the inspection window, with the motorcycle held vertically on level ground before each use of the motorcycle.