Suzuki GSX-R 1000 Owners Manual
Suzuki GSX-R 1000 Owners Manual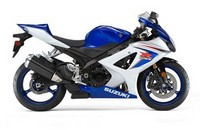 Motorcycling is one of the most exhilarating sports and to ensure your riding enjoyment, you should become thoroughly familiar with the information presented in this owner's manual before riding ...
Other materials:
Tightening torque specifications
Note the specified tightening torque is described in the following. "Throttle cable routing diagram" "throttle body components" "throttle body construction" "engine assembly installation" Reference: for the tightening torque of fastener not specified i ...
Rear wheel assembly construction
Rear sprocket nut Rear axle nut Brake disc bolt Clearance 60 N·m (6.0 Kgf-m, 43.0 Lbf-ft) 100 N·m (10 kgf-m, 72.5 Lbf-ft) 35 N·m (3.5 Kgf-m, 25.5 Lbf-ft) Apply grease. Apply thread lock to the thread part. ...
Evaporative emission control system diagram (only for e-33)
Fuel tank Fuel-vapor separator Fuel pump Fuel feed hose Fuel shut-off valve Iap sensor Surge hose Evap canister Purge hose Evap system purge control solenoid valve Fue Hc vapor Fresh air Vacuum ...