Suzuki GSX-R 1000 Owners Manual: Maintenance schedule
It is very important to inspect and maintain your motorcycle regularly.
Follow the guidelines in the chart. The intervals between periodic services in kilometers, miles and months are shown. At the end of each interval, be sure to perlorm the maintenance listed.

Warning

Improper maintenance or fail· ure to perform recommended maintenance increases the chance of an accident or motorcycle damage.
Always follow the inspection and maintenance recommendations and schedules in this owner's manual. Ask your suzuki dealer or qualified mechanic to do the maintenance items marked with an asterisk (*). You may perform the unmarked maintenance items by referring to the instructions in this section, if you have mechanical experience.
If you are not sure how to do any of the jobs, have your suzuki dealer or qualified mechanic do them

Warning

Running the engine indoors or in a garage can be hazardous.
Exhaust gas contains carbon monoxide, a gas that is colorless and odorless and can cause death or severe injury.
Only run the engine outdoors where there is fresh air.
Note
: the maintenance chart specifies the minimum requirements for maintenance. If you use your motorcycle under severe conditions, perform maintenance more often than shown in the chart. If you have any questions regarding maintenance intervals, consult your suzuki dealer or qualified mechanic.
Caution
Using poor quality replacement parts can cause your motorcycle to wear more quickly and may shorten its useful life.
Use only genuine suzuki replacement parts or their equivalent.
Maintenance chart
Interval: this interval should be judged by odometer reading or months, whichever comes first.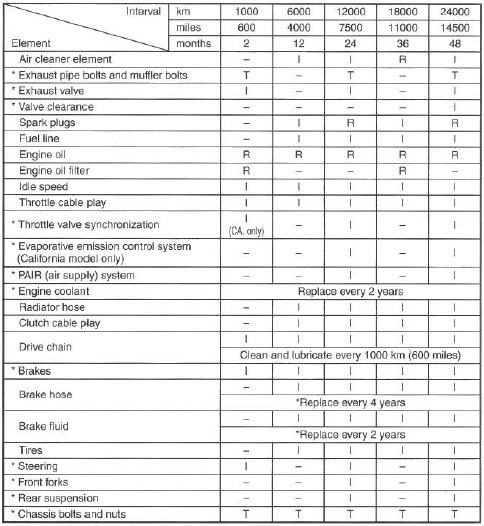 Note
: i= inspect and clean, adjust, replace or lubricate as necessary, r== replace, t == tighten
Note
: (california model only) and (ca. Only) means that the items or the maintenance interval is to be applied only for the california model.