Suzuki GSX-R 1000 Owners Manual: Batiery
The battery is located under the front seat. Remove the front seat by referring to the seat lock and helmet holders section.
This battery is sealed type and requires no maintenance.
Have your dealer check the battery's state of charge periodically.
The standard charging rate is 1.2A x 5 to 1 0 hours and maximum rate is s.Oa x 1 hour. Never exceed maximum charging rate.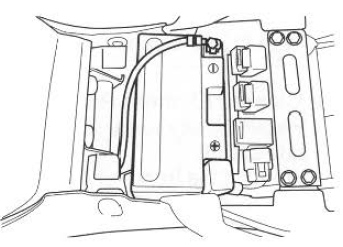 Warning

Battery posts, terminals, and related accessories contain lead and lead compounds.
Wash hands after handling.

Warning

Hydrogen gas produced by batteries can explode if exposed to flames or sparks.
Keep flames and sparks away from the battery. Never smoke when working near the battery.
Caution
Exceeding the maximum charging rate for the battery can shorten its life.
Never exceed the maximum charging rate
Caution
Reversing the battery lead wires can damage the charging system and the battery.
The red lead must go to the positive (+) terminal and the black (or black with white tracer) lead must go to the neg· ative (-) terminal.