Suzuki GSX-R 1000 Owners Manual: Steering damper maintenance
Keep the steering damper shaft 1 clean at all times.
Wipe off any oil residue with a cloth.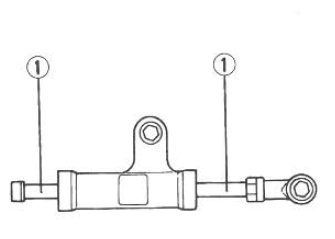 Do not confuse the grease-like residue on the steering damper's shaft with an oil leak. Collection of this residue is normal and is from oil seal lubricant used in the damper.
You may also notice a sound as the damper shaft is stroked in and out. This "escaping air" type sound is normal and is made as the internal valving damps the shaft movement.