Suzuki GSX-R 1000 Owners Manual: Emission control warranty
Suzuki motor corporation warrants to the ultimate purchaser and each subsequent purchaser that this vehicle is designed, built, and equipped so as to conform at the time of sale with all U.S. Emission standards applicable at the time of manufacture, and that it is free from defects in materials and workmanship which would cause it not to meet these standards within its useful life. Useful life is defined for each class of motorcycle as 5 years or the corresponding number of kilometers (miles) shown in the chart below, whichever occurs first.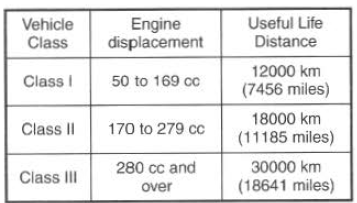 Failures, other than those resulting from defects in material or workmanship, which arise solely as a result of owner abuse and/or lack of proper maintenance are not covered by the warranty.