Suzuki GSX-R 1000 Owners Manual: Engine oil
Oil quality is a major contributor to your engine's performance and life. Always select good quality engine oil. Suzuki recommends the use of suzuki performance 4 motor oil or equivalent engine oil. Use sf/sg or sh/ sj with jaso ma in api (american petroleum institute) classification.

Api: american petroleum institute jaso: japanese automobile standards organization
Sae engine 011 viscosity
Suzuki recommends the use of sae 1 ow-40 engine oil. If sae 10w-40 engine oil is not available, select an alternative according to the following chart.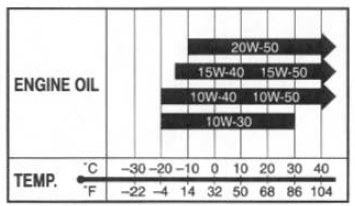 Jaso T903
The jaso t903 standard is an index to select engine oils for 4- stroke motorcycle and atv engines. Motorcycle and atv engines lubricate clutch and transmission gears with engine oil. Jaso t903 specifies performance requ irements for motorcycle and atv clutches and transmission.
There are two classes, ma and mb. The oil container has following classification for confirming the standard.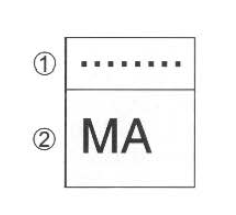 Code number of oil sales company
Oil classification
Energy conserving
Suzuki does not recommend the use of "energy conserving" oi ls. Some engine oils which is api sh or greater has "energy conserving" indication in api classification doughnut mark.
These oils can affect engine life and clutch performance.