Suzuki GSX-R 1000 Owners Manual: Using the transmission
The transmission is provided to keep the engine operating smoothly in its normal operating speed range. The gear ratios have been carefully chosen to meet the characteristics of the engine. The rider should always select the most suitable gear for the prevailing conditions. Never slip the clutch to control road speed, but rather downshift to allow the engine to run within its normal operational range. The table below shows the approximate speed range for each gear.
Shifting up schedule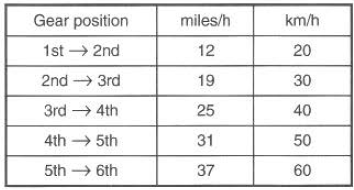 Shifting down schedule

Disengage the clutch when the motorcycle speed drops below 12 miles/h (20 km/h).

Warning

Downshifting when engine speed is too high can;
cause the rear wheel to skid and lose traction due to increased engine braking, resulting in an accident; or
force the engine to overview in the lower gear, resulting in engine damage.
Reduce speed before downshifting.

Warning

Downshifting while the motorcycle is leaned over in a corner may cause rear wheel skid and loss of control.
Reduce your speed and downshift before entering the corner.
Caution
Revving the engine into the red zone can cause severe engine damage.
Never allow the engine to rev into the red zone in any gear.