Suzuki GSX-R 1000 Owners Manual: Location of labels
Read and follow all of the warnings labeled on your motorcycle.
Make sure you understand all of the labels. Keep the labels on your motorcycle. Do not remove them for any reason.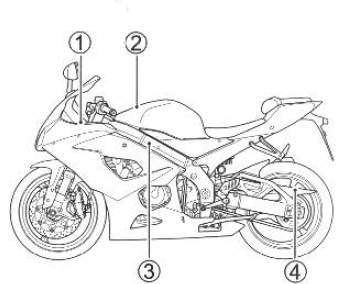 1

Warning


Keep windshield clean at all times.
Clean only with a soh cloth and warm water with a mild detergent.
Minor scratches may be removed by polishing with a commercially available plastic polish. Make sure the plastic polish does not contain an abrasive compound. As it may cause permanent scratches.
Replace windshield if it becomes scratched or discolored so as to interfere with view.
Avoid using any alkaline or strong acid cleaner. Gasoline, brake fluid, or any other solvent.
When replacing windshield, use suzuki replacement windshield.
2

Warning

Failure to follow these safety precautions may increase your risk of injury:
wear a helmet, eye protection. And bright protective clothing.
Don't ride after consuming alcohol or other drugs.
Slow down on slippery surfaces. Unfamiliar terrain, or when visibility is reduced .
Read owner's manual carefully.
3

4

Warning


Check tire condition, wear, and cold tire pressure before each ride.
Replace only with tubeless tires of listed size and type.
Read owner's manual for more information.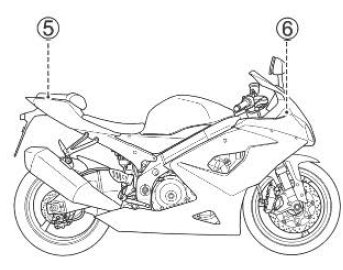 5
The owner's manual contains important safety information and instructions which should be read carefully before operating the vehicle.

If the vehicle has been resold. Obtain the owner's manual from the previous owner or contact your local suzuki dealer for assistance.
6

Warning

Do not carry any objects in the space behind the fairing or on the fairing support bars.
Objects placed in these area can interfere with steering and can cause loss of control.