Suzuki GSX-R 1000 Owners Manual: Gearshift lever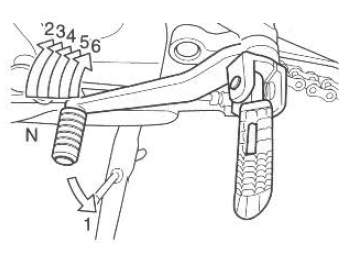 This motorcycle has a 6-speed transmission which operates as shown. To shift properly, squeeze the clutch lever and close the throttle at the same time you operate the gearshift lever. Lift the gearshift lever to upshift and depress the lever to downshift.
Neutral is located between low and 2nd gear. When neutral is desired, depress or lift the lever halfway between low and 2nd gear.
Note
: when the transmission is in neutral, the green indicator light on the instrument panel will be lit.
However, even though the light is illuminated, cautiously release the clutch lever slowly to determine whether the transmission is positively in neutral.