Suzuki GSX-R 1000 Owners Manual: Damping force adjustment
The rebound and compression damping force can be individually adjusted by turning the respective adjusters. The rebound damping force adjuster 2 is located at the top of the front fork. The compression damping force adjuster 3 is located at the bottom of the front fork.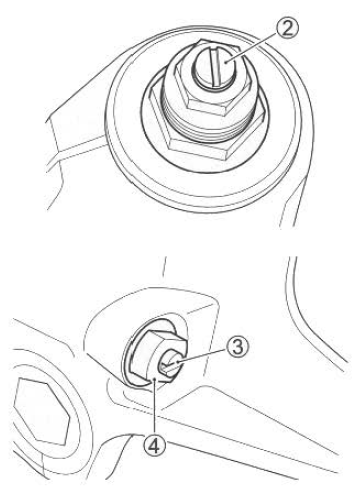 To adjust the damping force, set the adjuster to the standard setting first and then adjust the adjuster to the desired position.
To set the rebound and compression damping force, turn the adjuster clockwise until it stops and then turn it counterclockwise.
As you turn the adjuster, you will notice clicks. Count the number of clicks from fully turned-in position.
The standard rebound damping force setting is 9 clicks. The standard compression damping force setting is 14 clicks.
Turn the adjuster clockwise from the standard position to stiffen the damping force. Turn the adjuster counterclockwise to soften the damping force. The damping force should be adjusted gradually, 1/4 turn at a time, to fine-tune the suspension.
Note
: do not loosen the adjuster base 4, or front fork oil will ooze through the adjuster base.

Warning

Unequal suspension adjustment can cause poor handling and loss oft stability.
Adjust the right and left front forks to the same settings.