Suzuki GSX-R 1000 Owners Manual: Brake fluid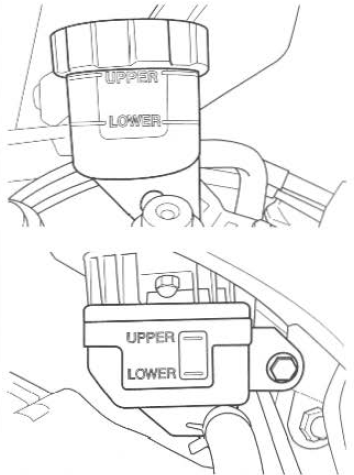 Check the brake fluid level in both front and rear brake fluid reservoirs. If the level in either reservoir is below the lower mark, inspect for brake pad wear and leaks.

Warning

Brake fluid is harmful or fatal if swallowed, and harmful if it comes in contact with skin or eyes.
If swallowed, do not induce vomiting. Immediately contact a poison control center or a physician. If brake fluid gets in eyes, flush eyes with water and seek medical attention. Wash thoroughly after handling.
Solution can be poisonous to animals. Keep out of the reach of children and animals.

Warning

Failure to keep the brake fluid reservoir full with proper brake fluid can be hazardous. The brakes may not work correctly without the proper amount and type of brake fluid. This could lead to an accident.
Inspect the brake fluid level before each use. Use only dot4 brake fluid from a sealed container. Never use or mix different types of brake fluid. If there is frequent loss of fluid, take your motorcycle to a suzuki dealer or qualified mechanic for inspection.
Caution
Spilled brake fluid can damage painted surfaces and plastic parts.
Avoid spilling any fluid when filling the reservoir. Wipe up spills immediately.