Suzuki GSX-R 1000 Service Manual: DTC "c41" (p2505): ecm power input signal malfunction
Detected condition and possible cause
Detected condition

Possible cause

C41/P2505

No voltage is applied to the ecm.

Lead wire/coupler connection of ecm terminal to fuel fuse.
Fuel fuse.
Wiring diagram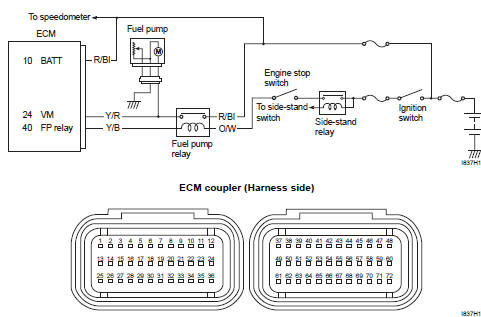 Troubleshooting
Caution
when using the multi-circuit tester, do not strongly touch the terminal of the ecm coupler with a needle pointed tester probe to prevent terminal damage.
Note
after repairing the trouble, clear the dtc using sds tool. Refer to "use of sds diagnosis reset procedures" .
Step

Action

Yes

No

1

Turn the ignition switch off.
Remove the front seat. Refer to "exterior parts removal and installation" in section 9d .
Check the ecm coupler for loose or poor contacts. If ok, then measure the ecm input voltage.




Disconnect the ecm coupler. Refer to "ecm removal and installation" in section 1c .
Insert the needle pointed probe to ecm coupler.
Measure the voltage between terminal "10" and ground.

Special tool
(a): 09900–25008 (multi circuit tester set) (b): 09900–25009 (needle-point probe set)

Tester knob indication voltage ( )

Ecm input voltage battery voltage ((+) terminal: "10" – (–) terminal: ground)

Ecm couplers (harness side)




Is the voltage ok?

Open or short circuit in the r/bl wire.