Suzuki GSX-R 1000 Service Manual: Front brake pad replacement
Loosen the pad mounting pins (1).
Remove the brake caliper by removing the caliper mounting bolts (2).
Remove the pad mounting pins (1), brake pads and spring.
Caution
do not operate the brake lever while the pads are removed.
Note
when removing the pads and pad spring, push the pistons all the way into the brake caliper.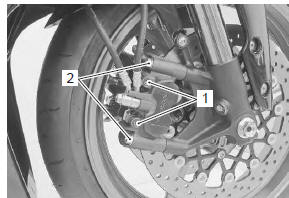 Clean up the caliper especially around the caliper pistons.
When installing the spring to caliper, bring its wider pawl "a" to top side.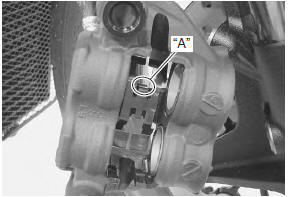 Install new brake pads and temporarily tighten the pad mounting pins.
Caution
replace the brake pads as a set, otherwise braking performance will be adversely affected.
Install the brake caliper.
Tighten the front brake caliper mounting bolts (2) and front brake pad mounting pins (1) to the specified torque.
Tightening torque front brake caliper mounting bolt (a): 39 n·m ( 3.9 Kgf-m, 28.0 Lbf-ft) front brake pad mounting pin (b): 15 n·m (1.5 Kgf-m, 11.0 Lbf-ft)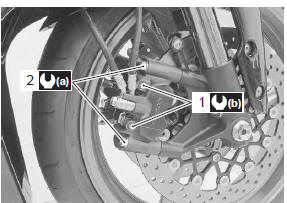 Note
after replacing the brake pads, pump the brake lever several times to check for proper brake operation and then check the brake fluid level.