Suzuki GSX-R 1000 Service Manual: Front brake caliper removal and installation
Note
the right and left calipers are installed symmetrically and therefore the removal procedure for one side is the same as that for the other side.
Removal
Drain brake fluid. Refer to "brake fluid replacement" in section 4a .
Remove the brake hose from the caliper by removing the union bolt (1) and catch the brake fluid in a suitable receptacle.
Note
place a rag underneath the union bolt on the brake caliper to catch any spilt brake fluid.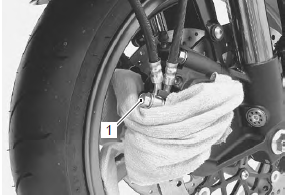 Remove the brake caliper by removing its mounting bolts (2).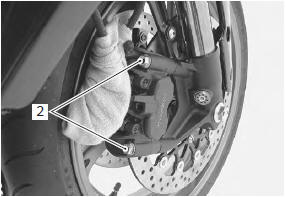 Installation
Install the brake caliper in the reverse order of removal.
Pay attention to the following points:
tighten each bolt to the specified torque.
Tightening torque front brake caliper mounting bolt (a): 39 n·m (3.9 Kgf-m, 28.0 Lbf-ft)
After setting the brake hose union to the stopper, tighten the union bolt to the specified torque.
Caution
the seal washers should be replaced with the new ones to prevent fluid leakage.
Tightening torque brake hose union bolt (b): 23 n·m (2.3 Kgf-m, 16.5 Lbf-ft)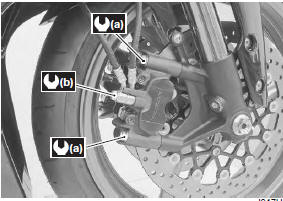 Bleed air from the brake system after installing the caliper. Refer to "air bleeding from brake fluid circuit" in section 4a .
Check the brake fluid leakage and brake operation.

Brake fluid, if it
leaks, will interfere with safe running and discolor painted surfaces.
Check the brake hose and hose joints for cracks and fluid leakage.