Suzuki GSX-R 1000 Service Manual: Lubrication points
Proper lubrication is important for smooth operation and long life of each working part of the motorcycle.
Major lubrication points are indicated as follows.
Note
before lubricating each part, clean off any rusty spots and wipe off any grease, oil, dirt or grime.
Lubricate exposed parts which are subject to rust, with a rust preventative spray whenever the motorcycle has been operated under wet or rainy conditions.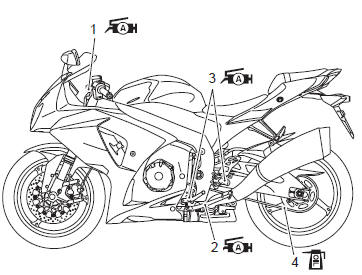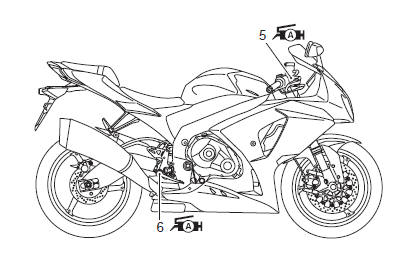 Clutch lever holder
Side stand pivot and spring hook
Gearshift lever pivot and footrest pivot
Drive chain
Brake lever holder
Brake pedal pivot and footrest pivot Apply grease.


Apply oil.