Suzuki GSX-R 1000 Service Manual: Cooling circuit inspection

Do not open the radiator cap when the engine is hot, as you may be injured by escaping hot liquid or vapor.
When removing the radiator cap tester, put a rag on the filler to prevent the engine coolant from spraying out.
Inspect the cooling circuit in the following procedures:
remove the right side cowling. Refer to "exterior parts removal and installation" in section 9d .
Remove the radiator cap (1) and connect the radiator tester (2) to the filler.
Pressurize the cooling system with 120 kpa (1.2 Kgf/ cm, 17.6 Psi) of pressure, and then check if it holds the pressure for 10 seconds.
Caution
do not exceed the radiator cap release pressure, or the radiator cap and subsequently the radiator, can be damaged.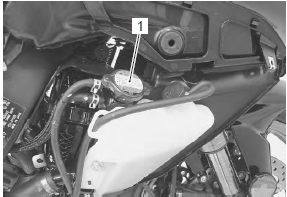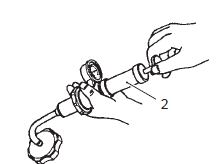 After finishing the cooling circuit inspection, reinstall the removed parts.