Suzuki GSX-R 1000 Service Manual: General description
Combination meter system description
This combination meter mainly consists of a stepping motor, lcd (liquid crystal display) and leds (light emitting diode).
The tachometer pointer is driven by the stepping motor.
The lcds indicate followings: speed, odo / trip 1 / trip 2 / fuel reserve trip / clock / fi (dtc) / lap time counter / panel light brightness, gear position, engine rpm indicator, oil pressure indicator, engine coolant temperature and drive mode position.
Led (light emitting diode)
Led is used for the illumination light and each indicator light.
Led is maintenance free. Led is less power consuming and more resistant to vibration resistance compared to the bulb.
Engine rpm indicator light
This speedometer is equipped the engine revolution indicator light. The engine revolution indicator light is adjustable from 5 000 – 13 750 r/min. (From 5 000 r/min to 10 000 r/min, every 250 r/min and 10 000 r/min to 13 750 r/min, every 50 r/min: initial setting: 11 000 r/min)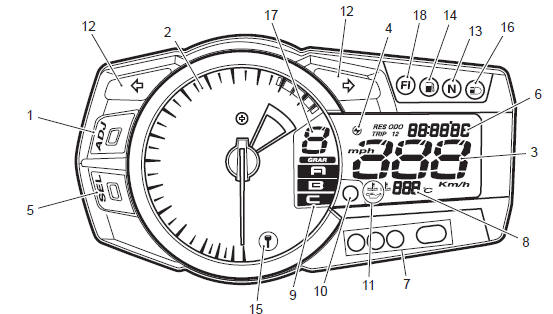 Adj button
Tachometer
Lcd (speedometer)
Lcd (engine rpm indicator)
Sel button
Lcd (odo / trip 1 / trip 2 / fuel reserve trip / clock / fi (dtc) / lap time counter / panel light brightness)
Led (engine rpm indicator light)
Lcd (engine coolant temperature)
Lcd (drive mode indicator)
Led (oil pressure indicator light / engine coolant temperature indicator light)
Lcd (oil pressure indicator / engine coolant temperature indicator)
Led (turn signal indicator light)
Led (neutral indicator light)
Led (fuel indicator light)
Led (immobilizer indicator light) (for e-02, 19, 24, 51)
Led (high-beam indicator light)
Lcd (gear position indicator)
Led (fi / sd)