Suzuki GSX-R 1000 Service Manual: Starter motor disassembly and assembly
Refer to "starter motor removal and installation" .
Disassembly
Disassemble the starter motor as shown in the starter motor components diagram. Refer to "starter motor components" .
Assembly
Reassemble the starter motor in the reverse order of removal. Pay attention to the following points:
Caution
replace the o-rings with new ones to prevent oil leakage and moisture.
Apply grease to the bearing and lip of the oil seal.

: Grease 99000–25010 (suzuki
super grease "a" or equivalent)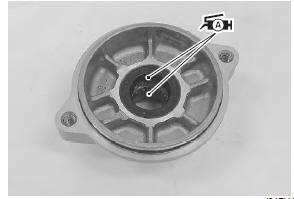 Apply a small quantity of moly paste to the armature shaft.
: Moly paste 99000–25140 (suzuki moly paste or equivalent)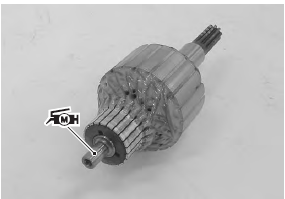 Fit the depression "a" on the housing end to the projection "b" on the case.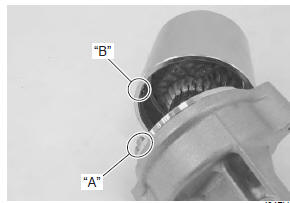 Tighten the starter motor housing bolts (1) to the specified torque.
Tightening torque starter motor housing bolt (a): 5 n·m (0.5 Kgf-m, 3.5 Lbf-ft)