Suzuki GSX-R 1000 Owners Manual: Inspecting the drive chain
When inspecting the chain, look for the following:
loose pins
damaged rollers
dry or rusted links
kinked or binding links
excessive wear
improper chain adjustment
If you find anything wrong with the drive chain condition or adjustment, correct the problem if you know how. If necessary, consult your authorized suzuki dealer.
Damage to the drive chain means that the sprockets may also be damaged. Inspect the sprockets for the following: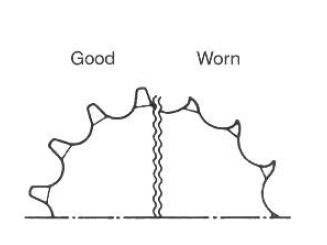 Excessively worn teeth
broken or damaged teeth
loose sprocket mounting nuts
Note
: the two sprockets should be inspected for wear when a new chain is installed and replaced if necessary.
If you find any of these problems with your sprocket, consult yoursuzuki dealer.

Warning

Improperly installing a replacement chain, or using a jointclip type chain, can be hazardous.
An incompletely riveted master link, or a joint-clip type master link, may come apart and cause an accident or severe engine damage.
Do not use a joint-clip type chain. Chain replacement requires a special riveting tool and a high-quality, non-jointclip type chain. Ask an authorized suzuki dealer or qualified mechanic to perform this work.