Suzuki GSX-R 1000 Service Manual: Rear brake caliper disassembly and assembly
Refer to "rear brake caliper removal and installation" .
Disassembly
Remove the pad spring (1) and rubber boot (2) from the caliper.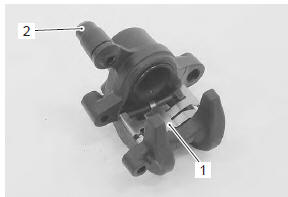 Place a rag over the piston to prevent it from popping out and then force out the piston using compressed air.
Caution
do not use high pressure air to prevent piston damage.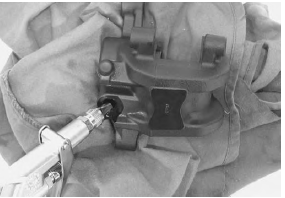 Remove the dust seal (3) and piston seal (4).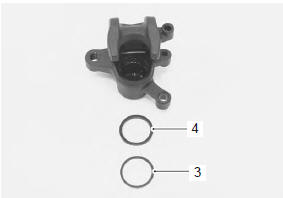 Remove the rubber boot (5), pad spring (6) and sliding pin b (7) from the bracket.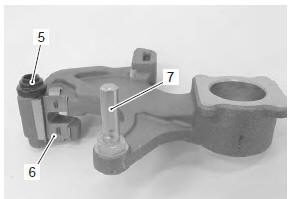 Assembly
Assemble the caliper in the reverse order of disassembly. Pay attention to the following points:
wash the caliper bore and piston with specified brake fluid. Particularly wash the dust seal groove and piston seal groove.
Bf: brake fluid (dot 4)
Caution
wash the caliper components with fresh brake fluid before reassembly. Never use cleaning solvent or gasoline to wash them.
Do not wipe the brake fluid off after washing the components.
When washing the components, use the specified brake fluid. Never use different types of fluid or cleaning solvent such as gasoline, kerosine or the others.
Replace the piston seal and dust seal with new ones.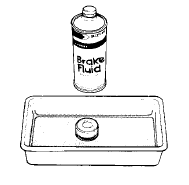 Apply the brake fluid to dust seal (1).
Bf: brake fluid (dot 4)
Apply grease to the piston seal (2).

: Grease 99000–25100 (suzuki
silicone grease or equivalent)
Install the piston seal (2) as shown in the figure.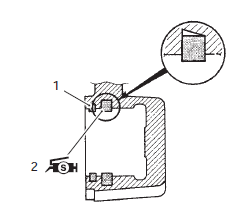 Apply thread lock to the thread part and install the sliding pin b (3) to the bracket.
:

Thread lock cement
99000–32110 (thread lock cement super "1322" or equivalent)
Tightening torque rear caliper sliding pin b (a): 12 n·m (1.2 Kgf-m, 8.5 Lbf-ft)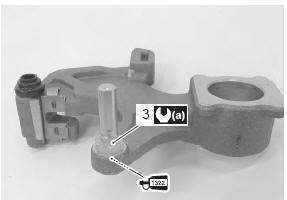 Install the rear brake caliper. Refer to "rear brake caliper removal and installation" .