Suzuki GSX-R 1000 Service Manual: Speed sensor inspection
Inspect the speed sensor in the following procedures:
remove the speed sensor. Refer to "speed sensor removal and installation" .
Connect a 12 v battery (between b and b/w), 10 kù resistor (between b/r and b) and multi-circuit tester (tester (+) probe to b and tester (–) probe to b/r) as shown in the figure.
Special tool

: 09900–25008 (multi circuit tester
set)
Tester knob indication voltage (

)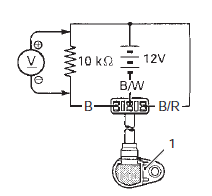 Move a screwdriver back and forth across the pickup surface of the speed sensor. The voltage readings should cycle as follows (0 v → 12 v or 12 v → 0 v). If the voltage reading does not change, replace the speed sensor with a new one.
Note
while testing, the highest voltage reading should be the same as the battery voltage (12 v).