Suzuki GSX-R 1000 Service Manual: Stp sensor adjustment
Adjust the stp sensor in the following procedures:
remove the air cleaner box cover. Refer to "air cleaner element removal and installation" in section 1d .
Disconnect the stva lead wire coupler (1).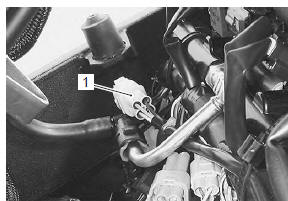 Insert the needle pointed probes to the stp sensor coupler (between y/w and b/br wires).
Turn the ignition switch on.
Close the secondary throttle valve by finger and measure the stp sensor output voltage.
Special tool


(a): 09900–25008 (multi circuit
tester set)


(b): 09900–25009 (needle-point probe
set)
Tester knob indication voltage (

)
Stp sensor output voltage st valve is fully closed: approx. 0.7 V ((+): y/w – (–): b/br)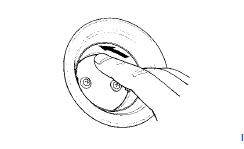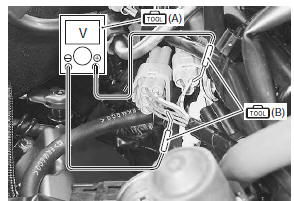 Move the throttle body upward by loosing the throttle body mounting screws.
Loosen the stp sensor mounting screw using the special tool and adjust the stp sensor until the output voltage comes within the specified value.
Special tool


: 09930–11950 (torx wrench (5 mm))
Tighten the stp sensor mounting screw to the specified torque.
Tightening torque stp sensor mounting screw: 3.5 N·m (0.35 Kgfm, 2.5 Lbf-ft)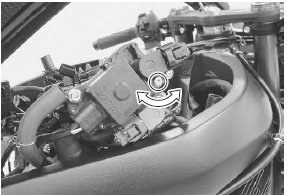 Reinstall the removed parts.