Suzuki GSX-R 1000 Service Manual: Tp sensor adjustment
Inspect the tp sensor setting position and adjust it if necessary in the following procedures:
connect the special tool (mode select switch) to the dealer mode coupler. Refer to "self-diagnostic procedures" in section 1a .
Special tool


: 09930–82720 (mode selection switch)
Warn up the engine and keep it running in idling speed.
Turn the mode select switch on.
Check the position of the bar in the left of c code displayed on the lcd panel.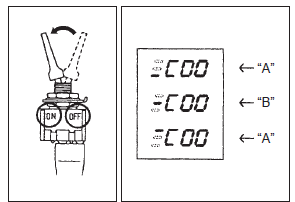 Incorrect position
Correct position
If the tp sensor adjustment is necessary, turn off the engine and lift up the throttle body from the intake pipes. Refer to "throttle body removal and installation" in section 1d .
Loosen the tp sensor mounting screw using the special tool and turn the tp sensor to bring the bar to the correct position.
Special tool

: 09930–11950 (torx wrench (5 mm))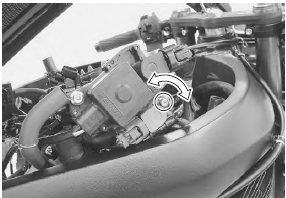 Tighten the tp sensor mounting screw to the specified torque.
Tightening torque tp sensor mounting screw: 3.5 N·m (0.35 Kgfm, 2.5 Lbf-ft)
Reinstall the throttle body.
Turn on the engine and make sure that the tp sensor bar is at the correct position.
Turn off the engine and reinstall the removed parts.