Suzuki GSX-R 1000 Service Manual: Using the testers
Incorrectly connecting the (+) and (.) Probes may cause the inside of the tester to be burned.
If the voltage and current are not known, make measurements using the highest range.
When measuring the resistance with the multi-circuit tester (1), ∞ will be shown as 10.00 Mƒґ and ƒg1ƒh flashes in the display.
Check that no voltage is applied before making the measurement. If voltage is applied the tester may be damaged.
After using the tester, turn the power off.
Special tool


: 09900Ц25008
(multi circuit tester set)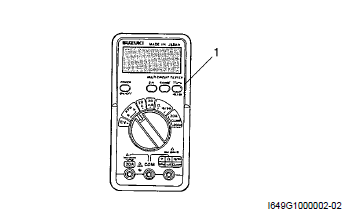 Note
when connecting the multi-circuit tester, use the needle pointed probe to the back side of the lead wire coupler and connect the probes of tester to them.
Use the needle pointed probe to prevent the rubber of the water proof coupler from damage.
When using the multi-circuit tester, do not strongly touch the terminal of the ecm coupler with a needle pointed tester probe to prevent terminal damage.
Special tool

(a):
09900Ц25009 (needle-point probe set)