Suzuki GSX-R 1000 Service Manual: Conrod crank pin bearing removal and installation
Refer to "engine bottom side disassembly" (page 1d- 49).
Refer to "engine bottom side assembly" .
Removal
Remove the conrod crank pin bearings (1).
Note
do not remove the bearings (1) unless absolutely necessary.
Make a note of where the bearings are removed from so that they can be reinstalled in their original positions.
Caution
when removing the bearings, be careful not to scratch the conrods and the bearings.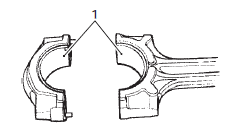 Installation
When installing the bearings into the conrod cap and conrod, be sure to install the tab "a" first, and then press in the other opposite side of the bearing.
Note
inspect and select the conrod crank pin bearing if necessary. Refer to "conrod crank pin bearing inspection and selection" .