Suzuki GSX-R 1000 Service Manual: Balancer shaft journal bearing inspection and selection
Refer to "engine bottom side disassembly" (page 1d- 49).
Refer to "engine bottom side assembly" .
Inspection
Inspect the bearing surfaces for any signs of fusion, pitting, burn or flaws. If any, replace them with a specified set of bearings.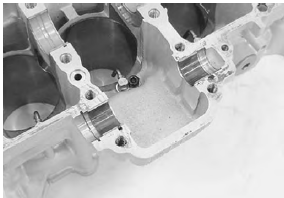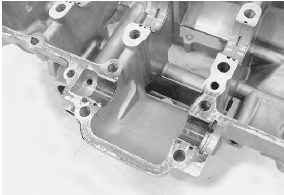 Selection
Place the plastigauge axially along the balancer shaft journal as shown.
Special tool (a): 09900–22301 (plastigage (0.025 – 0.076 Mm))
Caution
never rotate the balancer shaft when a piece of plastigauge is installed.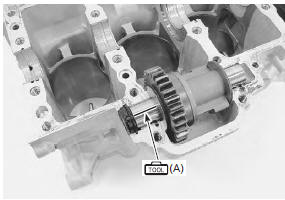 Mate the lower crankcase with the upper crankcase, and tighten the crankcase bolts (m8) and crankshaft journal bolts (m9) to the specified torque.
Tightening torque crankshaft journal bolt (m9): 18 n·m (1.8 Kgf-m, 13.0 Lbf-ft) then turn in 50° crankcase bolt (m8) (initial): 15 n·m (1.5 Kgf-m, 11.0 Lbf-ft) crankcase bolt (m8) (final): 26 n·m (2.6 Kgf-m, 19.0 Lbf-ft) crankcase bolt (m6): 12 n·m (1.2 Kgf-m, 8.5 Lbfft)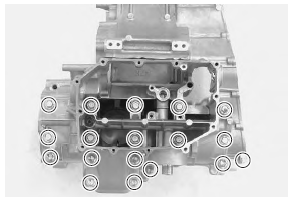 Remove the lower crankcase and measure the width of the compressed plastigauge using the envelope scale. This measurement should be taken at the widest part of the compressed plastigauge. If the oil clearance exceeds the service limit, select the specified bearings from the bearing selection table.
Balancer shaft journal oil clearance standard: 0.028 – 0.052 Mm (0.0011 – 0.0020 In) service limit: 0.080 Mm (0.0031 In)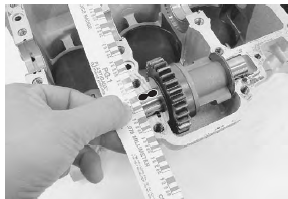 Check the corresponding crankcase journal i.D.

Code number "a", [a], [b] or [c] which is stamped on the rear of upper crankcase.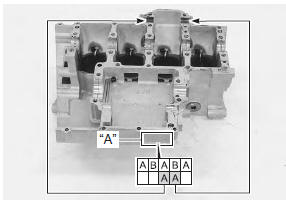 Bearing selection table

Crankcase I.D. Specification

Balancer shaft journal o.D. Specification 19.992 – 20.000 Mm (0.7871 – 0.7874 In)
Bearing thickness specification

Note
the balancer shaft journal bearings on upper and lower crankcases are the same.