Suzuki GSX-R 1000 Service Manual: Cooling fan inspection
Cooling fan operating temperature standard (on → off): approx. 100 ?‹C (212 ƒ‹f) (off → on): approx. 105 ?‹C (221 ƒ‹f)
Inspect the cooling fan in the following procedures:
disconnect the cooling fan motor coupler (1).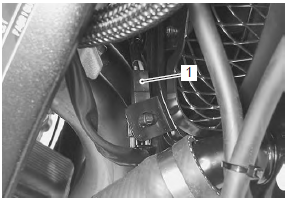 Test the cooling fan motor for load current with an ammeter connected as shown in the figure.

If the fan motor does not turn, replace the cooling fan assembly with a new one. Refer to "radiator / cooling fan motor removal and installation" .
Note
when making this test, it is not necessary to remove the cooling fan.
Make sure that the battery has a capacity enough to supply the motor with 12 v.
With the motor running at full speed, the ammeter should indicate an amperage not higher than 5 a.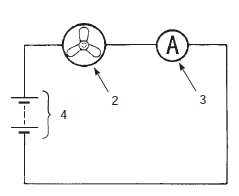 Fan motor
Ammeter
Battery
Connect the cooling fan motor coupler.