Suzuki GSX-R 1000 Service Manual: Heated oxygen sensor (ho2s) removal and installation
Removal

Do not
remove the ho2 sensor while it is hot.
Caution
be careful not to expose the ho2 sensor to excessive shock.
Do not use an impact wrench when removing or installing the ho2 sensor.
Be careful not to twist or damage the ho2 sensor lead wires.
Lift and support the fuel tank with the prop stay.

Refer to "fuel tank removal and installation" in section 1g .

Disconnect the ho2 sensor coupler (1).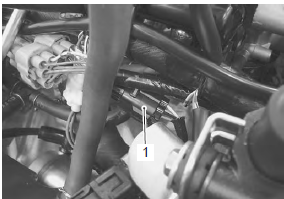 Remove the ho2 sensor (2).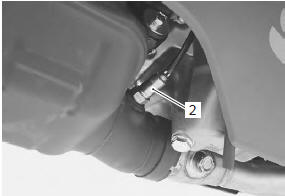 Installation
Install the ho2 sensor in the reverse order of removal.
Pay attention to the following points:
Caution
do not apply oil or other materials to the sensor air hole.
Tighten the ho2 sensor to the specified torque.
Tightening torque ho2 sensor (a): 25 n·m (2.5 Kgf-m, 18.0 Lbf-ft)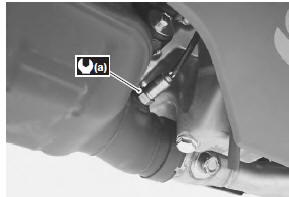 Heated oxygen sensor (ho2s) inspection
Refer to "dtc "c44" (p0130/p0135): ho2 sensor (ho2s) circuit malfunction" in section 1a (page 1a- 103).