Suzuki GSX-R 1000 Owners Manual: Rear brake pedal adjustment
The rear brake pedal position must be properly adjusted at all times or the disk brake pads will bear against the disk causing damage to the pads and to the disk surface. Adjust the brake pedal posit~ on in the following manner: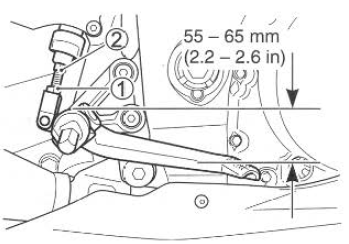 Loosen lock nut 1, and turn the push rod 2 to locate the pedal 55 - 65 mm (2.2 - 2.6 In) below the top face of the footrest.
Retighten lock nut 1 to secure push rod 2 in the proper position.
Caution
An incorrectly adjusted brake pedal may force brake pads to rub against the disk at all times, causing damage to the pads and disk.
Follow the steps in this section to adjust the brake pedal properly.