Suzuki GSX-R 1000 Service Manual: Rear wheel assembly removal and installation
Removal
Loosen the axle nut (1).
Raise the rear wheel off the ground and support the motorcycle with a jack or wooden block.
Caution
make sure that the motorcycle is supported securely.
Remove the axle nut (1).
Loosen the left and right lock-nuts (2) and turn in the adjuster bolts (3).
Draw out the rear axle.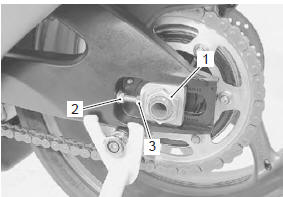 Remove the rear wheel by disengaging the drive chain.
Caution
do not operate the rear brake pedal with the rear wheel removed.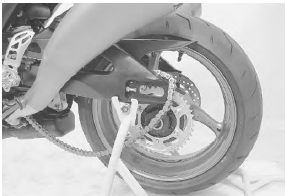 Remove the collars (5) and (6).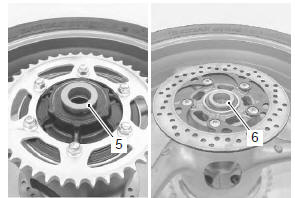 Installation
Install the collars (1) and (2).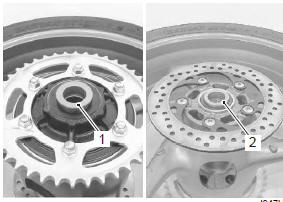 Remount the rear wheel and rear axle, tighten the rear axle nut (3) temporarily.
Adjust the chain slack after installing the rear wheel.

Refer to "drive chain inspection and adjustment" in section 0b .

Tighten the rear axle nut (3) to the specified torque.
Tightening torque rear axle nut (a): 100 n·m (10.0 Kgf-m, 72.5 Lbfft)

After remounting
the rear wheel, pump the brake pedal several times to check for proper brake operation.
Tighten both chain adjuster lock-nut (4) securely.