Suzuki GSX-R 1000 Owners Manual: Tire condition and type
Tire condition and tire type affect motorcycle performance. Cuts or cracks in the tires can lead to tire failure and loss of motorcycle control. Worn tires are susceptible to puncture failures and subsequent loss of motorcycle control.
Tire wear also affects the tire profile, changing motorcycle handling characteristics.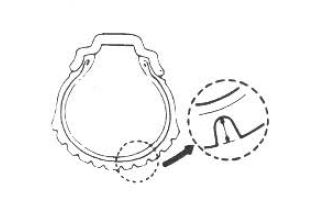 Check tire conditions each day before you ride. Replace tires if tires show visual evidence of damage, such as cracks or cuts, or if tread depth is less than 1.6 Mm (0.06 In) front, 2.0 Mm (0.08 In) rear.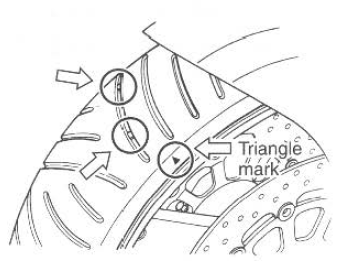 Note
: the ''triangle mark" indicates the place where the wear bars are molded into the tire.
When the wear bars contact the road, it indicates that the tire wear limit has been reached. Whenever you replace a tire, use a tire of the size and type listed below. If you use a different size or type of tire, motorcycle handling may be adversely affected, possibly resulting in loss of motorcycle control.

Always balance the wheel after repairing a puncture or replacing the tire. Proper wheel balance is important to avoid variable wheelto- road contact, and to avoid uneven tire wear.

Warning

An improperly repaired, installed, or balanced tire can cause loss of control or shorten tire life.
Ask your suzuki dealer or qualified mechanic to perform tire repair, replacement, and balancing because proper tools and experience are required.
Install tires according to the rotation direction shown by arrows on the sidewall of each tire.

Warning

Failure to follow these instruc-tions about tubeless tires may result in an accident due to tire failure. Tubeless tires require different service procedures than tube tires.