Suzuki GSX-R 1000 Service Manual: Tire inspection
Inspect tire every 6 000 km (4 000 miles, 12 months)
Tire tread condition
Operating the motorcycle with excessively worn tires will decrease riding stability and consequently invite a dangerous situation. It is highly recommended to replace a tire when the remaining depth of tire tread reaches the following specification.
Special tool

: 09900–20805 (tire depth gauge)
Tire tread depth (service limit) front: 1.6 Mm (0.06 In) rear: 2.0 Mm (0.08 In)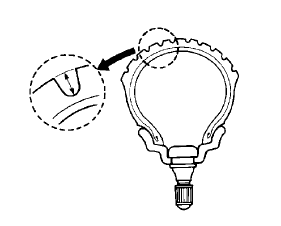 Tire pressure
If the tire pressure is too high or too low, steering will be adversely affected and tire wear increased. Therefore, maintain the correct tire pressure for good roadability, or shorter tire life will result. Cold inflation tire pressure is as follows.
Cold inflation tire pressure


Caution

the standard tire fitted on this motorcycle is 120/70 zr17 m/c (58w) for front and 190/50 zr17 m/c (73w) for rear. The use of tires other than those specified may cause instability. It is highly recommended to use the specified tires.
Tire type bridgestone
front: bt016f n
rear: bt016r n