Suzuki GSX-R 1000 Service Manual: Cushion rod removal and installation
Removal
Remove the right side cowling and side frame covers. Refer to "exterior parts removal and installation" in section 9d .
Support the motorcycle with a jack to relieve load on the cushion rod.
Remove the muffler chamber. Refer to "muffler / muffler chamber / exhaust pipe removal and installation" in section 1k .
Remove the cushion rod (1) and washer.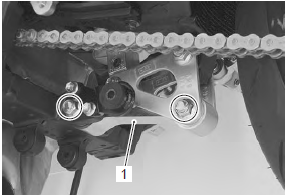 Installation
Install the cushion rod in the reverse order of removal.
Pay attention to the following points:
before installing the cushion rod to the frame, insert the collar into the bearing from the left side.
Install the washer between the cushion rod right side and frame.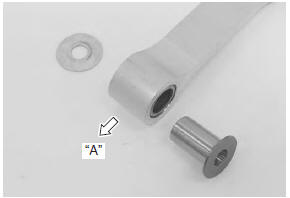 Tighten each bolts and nuts to the specified torque.
Tightening torque cushion rod front mounting nut (a): 98 n·m (9.8 Kgf-m, 71.0 Lbf-ft) cushion rod rear mounting nut (b): 98 n·m (9.8 Kgf-m, 71.0 Lbf-ft)