Suzuki GSX-R 1000 Service Manual: DTC "c60" (p0480): cooling fan relay circuit malfunction
Detected condition and possible cause
Detected condition

Possible cause

Cooling fan relay signal is not input to ecm.

Cooling fan relay circuit open or short.
Ecm malfunction.
Wiring diagram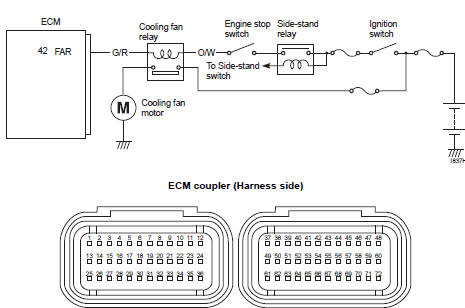 Troubleshooting
Caution
when using the multi-circuit tester, do not strongly touch the terminal of the ecm coupler with a needle pointed tester probe to prevent terminal damage.
Note
after repairing the trouble, clear the dtc using sds tool. Refer to "use of sds diagnosis reset procedures" .
Step

Action

Yes

No

1

Turn the ignition switch off.
Remove the frame covers. Refer to "exterior parts removal and installation" in section 9d .
Check the cooling fan relay (1) coupler for loose or poor contacts.

If ok, then inspection the cooling fan relay. Refer to "cooling fan inspection" in section 1f .




Is the cooling fan relay ok?

O/w and g/r wire open or shorted to ground, or poor "42" connection.
If wire and connection are ok, intermittent trouble or faulty ecm.
Recheck each terminal and wire harness for open circuit and poor connection.
Replace the ecm with a known good one, and inspect it again. Refer to "ecm removal and installation" in section 1c .

Replace the cooling fan relay with a new one.
Active control inspection
Set up the sds tool. (Refer to sds operation manual for further details.)
Start the engine and run it in idling condition.
Click "cooling fan relay control" (1).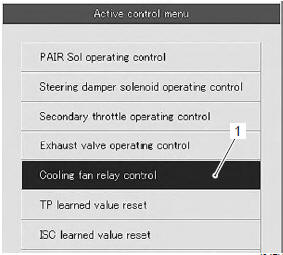 Click the "operate" (2).

At this time, if an operation sound is heard from the cooling fan relay and cooling fan motors are operated, the function is normal.
Note
the cooling fan relay and cooling fan motor inspection is operational at any engine coolant temperature until reaching 100 °c (212 °f). In a hot engine condition with the intake air temperature exceeding 40 °c (104 °f), however, the engine coolant temperature at which the inspection is operational will be restricted to 95 °c (203 °f).

Click the "stop" (3) to check the operation properly.

Click the "off" (4) to check the cooling fan relay and cooling fan motor operation.
Note
this inspection should be begun from when the engine coolant temperature is below 50 °c (122 °f).

Check that the cooling fan relay operates for a few seconds as the engine coolant temperature reaches each temp. Of 50 °c (122 °f), 70 °c (158 °f), 90 °c (194 °f) and 110 °c (230 °f)/above 4 000 r/ min. It is cooling fan motor malfunction or its circuit failure when the motor would not run even if the relay turns on.

There is a tolerance of operating temperature of cooling fan relay.