Suzuki GSX-R 1000 Service Manual: Fi system troubleshooting
Customer complaint analysis
Record details of the problem (failure, complaint) and how it occurred as described by the customer. For this purpose, use of such an inspection form such as following will facilitate collecting information to the point required for proper analysis and diagnosis.
Note
this form is a standard sample. The form should be modified according to conditions and characteristic of each market.
Example: customer problem inspection form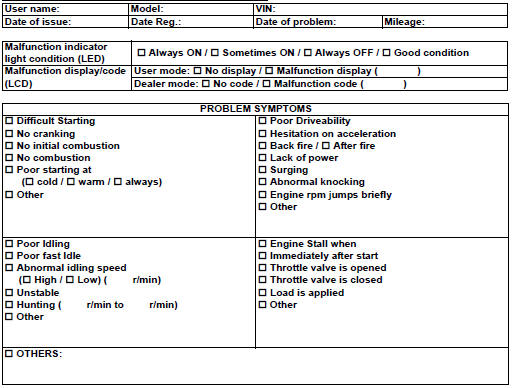 Visual inspection
Prior to diagnosis using the mode select switch or sds, perform the following visual inspections. The reason for visual inspection is that mechanical failures (such as oil leakage) cannot be displayed on the screen with the use of mode select switch or sds.
Engine oil level and leakage. Refer to "engine oil and filter replacement" in section 0b .
Engine coolant level and leakage. Refer to "cooling circuit inspection" in section 1f .
Fuel level and leakage. Refer to "fuel line inspection" in section 0b .
Clogged air cleaner element. Refer to "air cleaner element inspection" in section 0b .
Battery condition.
Throttle cable play. Refer to "throttle cable play inspection and adjustment" in section 0b .
Vacuum hose looseness, bend and disconnection.
Broken fuse.
Fi indicator light operation. Refer to "combination meter inspection" in section 9c .
Each warning indicator light operation. Refer to "combination meter inspection" in section 9c .
Speedometer operation. Refer to "speedometer inspection" in section 9c .
Exhaust gas leakage and noise. Refer to "exhaust system inspection" in section 1k .
Each coupler disconnection.
Clogged radiator fins. Refer to "radiator inspection and cleaning" in section 1f