Suzuki GSX-R 1000 Service Manual: Fuel line inspection
Inspect fuel line every 6 000 km (4 000 miles, 12 months)
Inspect the fuel line in the following procedures:
lift and support the fuel tank. Refer to "fuel tank removal and installation" in section 1g (page 1g- 9).
Inspect the fuel feed hose (1) for damage and fuel leakage. If any defects are found, the fuel feed hose must be replaced.

When
disconnecting the fuel feed hose from e-33 model, drain fuel from the fuel tank first to prevent fuel leakage.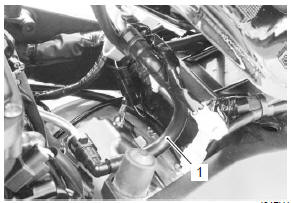 After finishing the fuel feed hose inspection, reinstall the removed parts.
Evaporative emission control system inspection (e-33 only)
Inspect evaporative emission control system every 12 000 km (7 500 miles, 24 months)
Inspect the evaporative emission control system periodically (e-33 only). Refer to "evaporative emission control system inspection (only for e-33)" in section 1b .