Suzuki GSX-R 1000 Service Manual: Open circuit check
Possible causes for the open circuit are as follows. As the cause can exist in the connector/coupler or terminal, they need to be checked carefully.
Loose connection of connector/coupler.
Poor contact of terminal (due to dirt, corrosion or rust, poor contact tension, entry of foreign object etc.).
Wire harness being open.
Poor terminal-to-wire connection.
When checking system circuits including an electronic control unit such as ecm, etc., It is important to perform careful check, starting with items which are easier to check.
Disconnect the negative (–) cable from the battery.
Check each connector/coupler at both ends of the circuit being checked for loose connection. Also check for condition of the coupler lock if equipped.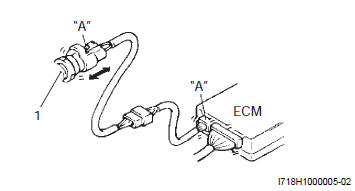 Sensor
Check for loose connection
Using a test male terminal, check the female terminals of the circuit being checked for contact tension.

Check each terminal visually for poor contact (possibly caused by dirt, corrosion, rust, entry of foreign object, etc.). At the same time, check to make sure that each terminal is fully inserted in the coupler and locked.

If contact tension is not enough, rectify the contact to increase tension or replace. The terminals must be clean and free of any foreign material which could impede proper terminal contact.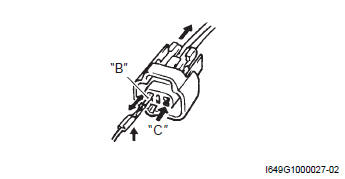 Check contact tension by inserting and removing
Check each terminal for bend and proper alignment
Using continuity inspect or voltage check procedure as described below, inspect the wire harness terminals for open circuit and poor connection.

Locate abnormality, if any.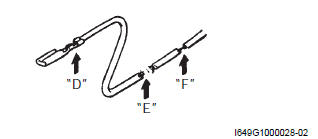 Looseness of crimping
Open
Thin wire (a few strands left)