Suzuki GSX-R 1000 Service Manual: Rear brake disc removal and installation
Removal
Remove the rear wheel assembly. Refer to "rear wheel assembly removal and installation" in section 2d .
Remove the rear brake disc.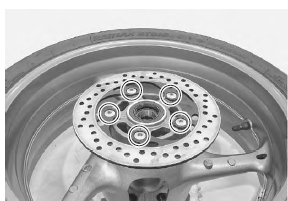 Installation
Install the rear brake disc in the reverse order of removal. Pay attention to the following points:
make sure that the brake disc is clean and free of any grease.
Apply thread lock to the brake disc bolts (1) and tighten them to the specified torque.

: Thread lock cement
99000–32130 (thread lock cement super "1360" or equivalent)
Tightening torque brake disc bolt (rear) (a): 35 n·m (3.5 Kgf-m, 25.5 Lbf-ft)