Suzuki GSX-R 1000 Service Manual: Throttle body removal and installation
Removal
Remove the side cowlings. Refer to "exterior parts removal and installation" in section 9d (page 9d- 6).
Remove the air cleaner box. Refer to "air cleaner box removal and installation" .
Remove the clamps (1).
Disconnect the iap sensor (2) from the vacuum hose.
Disconnect the stva lead wire coupler (3).
Disconnect secondary fuel injector couplers (4) and primary fuel injector couplers (5).
Disconnect the purge hose (6) from the evap system purge control solenoid valve. (E-33 only)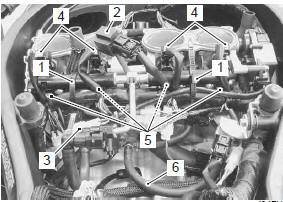 Remove the clamp (7).
Disconnect the isc valve coupler (8).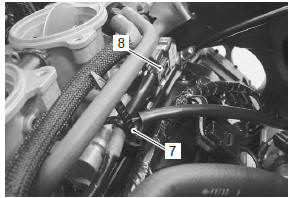 Place a rag under the fuel feed hose (9) and disconnect the fuel feed hose from the fuel pump.

For e-33
models, drain fuel from the fuel tank before disconnecting the fuel feed hose to prevent fuel leakage.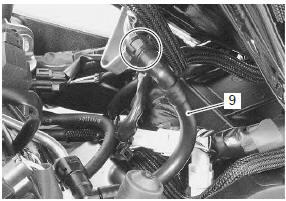 Loosen the throttle body clamp screws, left and right.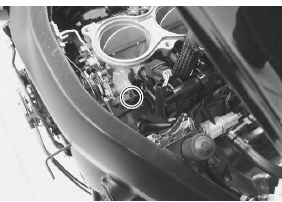 Lift up the throttle body from the intake pipes.
Disconnect the stp sensor coupler (10) and tp sensor coupler (11).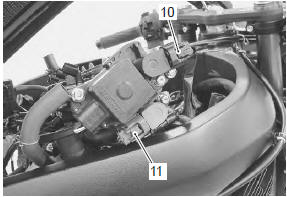 Disconnect the throttle cables.
Caution
after disconnecting the throttle cables, do not snap the throttle valve from full open to full close. It may cause damage to the throttle valve and throttle body.
Remove the throttle body.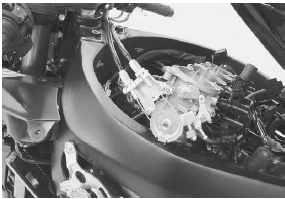 Installation
Installation is in the reverse order of removal. Pay attention to the following points:
connect the primary injector couplers (1) and secondary injector couplers (2) to the respective fuel injectors. Make sure that each coupler is installed in the correct position. The color on each lead wire refers to the appropriate fuel injector.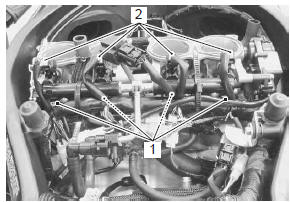 Connect the throttle cable no. 1 (3) And throttle cable no. 2 (4) To the throttle cable drum.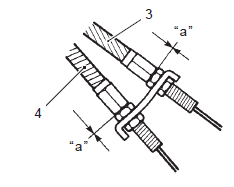 Loosen each throttle cable lock-nut.
Turn in each throttle cable adjuster fully and locate each outer cable so that the clearance "a" is 0 – 1 mm (0 – 0.04 In).
Tighten each lock-nut.
Tightening torque throttle cable lock-nut: 4.5 N·m (0.45 Kgf-m, 3.0 Lbf-ft)