Suzuki GSX-R 1000 Service Manual: Fuel pump relay inspection
Refer to "electrical components location" in section 0a .
Inspect the fuel pump relay in the following procedures:
remove the frame covers. Refer to "exterior parts removal and installation" in section 9d (page 9d- 6).
Remove the fuel pump relay (1).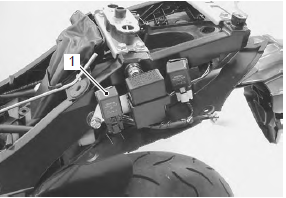 First, check for insulation with the tester between terminals "a" and "b". Next, check for continuity between "a" and "b" with 12 v voltage applied, positive (+) to terminal "c" and negative (–) to terminal "d". If continuity does not exist, replace the relay with a new one.
Special tool

: 09900–25008 (multi circuit tester
set)
Tester knob indication continuity test (

)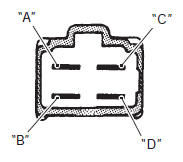 Fuel hose inspection
Refer to "fuel line inspection" in section 0b (page 0b- 10).
Fuel level gauge inspection
Refer to "fuel level gauge inspection" in section 9c .