Suzuki GSX-R 1000 Service Manual: Throttle valve synchronization
Check and adjust the throttle valve synchronization among four cylinders.
Start the engine and run it in idling condition for warming up.
Stop the warmed-up engine.
Lift and support the fuel tank. Refer to "fuel tank removal and installation" in section 1g (page 1g- 9).
Remove the clamps (1).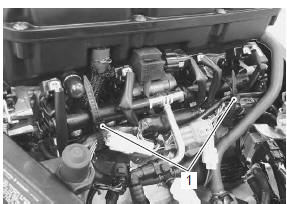 Disconnect the respective vacuum hoses (2) from vacuum nipples on the throttle body.
Disconnect the iap sensor coupler (3).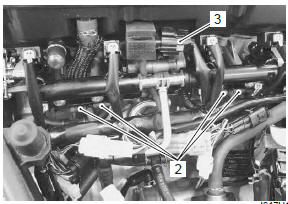 Connect the respective vacuum tester hoses (4) to the vacuum nipples.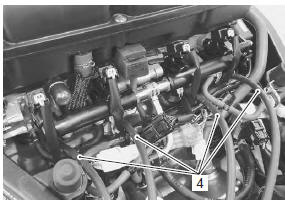 Set up the sds tool. (Refer to the sds operation manual for further details.)
Start the engine.
Click "data monitor".
Warm up the engine (engine coolant temp. More than 80 °c (176 °f)).
Click "active control".
Click "isc air volume control" (5).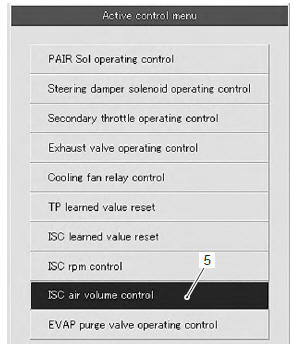 Click "on" button (6) to fix the isc air volume of four cylinders.
Note
when making this synchronization, be sure that the engine coolant temperature is within 80 – 100 °c (176 – 212 °f).

Engine speed: approx 1 150 rpm
Isc valve position: approx 48 step
Check for the synchronization of vacuum from #1 to #4 cylinders.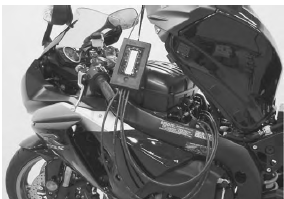 Equalize the vacuum of the cylinders by turning each air screw (7) and keep it running at idling speed.
Note
always set the engine rpm at idle rpm.
If the adjustment is not yet correct, remove each air screw and clean them with a spray-type carburetor cleaner and blow dry with a compressed air. Also, clean the air screw passageways.
Note
slowly turn the air screw clockwise and count the number of turns until the screw is lightly seated.
Make a note of how many turns were made so the screw can be reset correctly after cleaning.
Repeat the procedures from 9) to 16).
Close the sds tool and turn the ignition switch off.
Disconnect the vacuum tester and reinstall the removed parts.
After completing the throttle valve synchronization, clear the dtc and reset the isc learned value using sds tool. Refer to "isc valve preset and opening initialization" in section 1c .